Exchange Consulting for RIAs
Helping You Help Your Landlord Clients.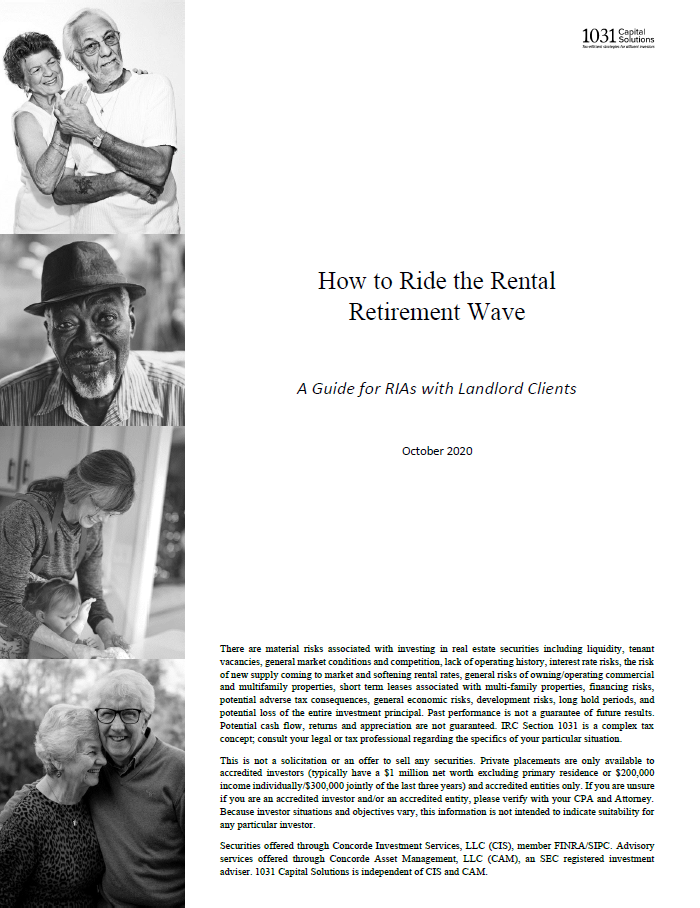 Financial advisors, please download a free copy of our 16-page white paper, How to Ride the Rental Retirement Wave by Richard D. Gann, JD and Jason L. McMurtry, MBA, authors of the 2020 book, How to Retire from Being a Landlord.
Download a Free Copy Now!
Want to learn more about what we do?
Visit our Upcoming Events page and participate in one of our free webinars.
Events & Webinars
Have your own in-house 1031 exchange department
Advising clients on their equities, fixed income, derivatives and funds is more than a full-time job. It is simply not possible to manage finnancial portfolios effectively AND be an expert in securitized 1031 replacement properties. Thankfully, you don't have to.
At 1031 Capital Solutions, we serve as your "in-house 1031 exchange department" by consulting with you to help your landlord clients. You manage your client relationships while we, behind the scenes, manage their transition from active to passive ownership.
Protect your landlord clients from bad advice
You likely have several clients who invest in real estate. Unfortunately, many of these clients are receiving 1031 investing advice from under-qualified sources: residential real estate agents, annuity salespeople, bank brokerage reps or crowdfunding websites. Clients investing in securitized real estate should be talking to their financial advisor, not an insurance agent. Let us help you save your clients from bad advice. At 1031 Capital Solutions, we spend every day focusing on passive 1031 replacement strategies for accredited investors.
Bring your clients' rental property under management
Over 10 million individual investors in the United States own, collectively, more than $5 trillion of real estate. As an asset class, that is the same order of magnitude as the entire mutual fund industry. Historically, RIAs managed virtually none of these rental assets–until now. By consulting with a firm like 1031 Capital Solutions, you can bring your clients' real estate assets under management as they transition from active ownership to passive investing. Securitized real estate is subject to the same investing principles as other asset classes… who is best suited than you to assist your clients down this path?
Help your clients retire from being landlords
In our white paper, How to Ride the Rental Retirement Wave, we outline four categories of dissatisfaction among today's Baby Boomer landlords:
Drudgery of ownership (management hassles, legal liability, maintenance burdens, accounting/tax reporting)
Inability to find and retain good tenants
Rent control and eviction moratoriums and, most importantly for a financial advisor
Reduced yields on equity
Combine all of this with the fears of taxation and reluctance to exchange/borrow into another rental property, and the result is clear. Your clients need help retiring from being landlord!
Let us help you guide your clients into a different lifestyle, with passive ownership, potentially higher income, diversification across tenants, property types and geographies, institutional management and built-in financing… all while deferring or avoiding taxes.
First, we strongly suggest that you download our white paper at the top of this page.
Second, we humbly ask that you review our website, including our About Us page and our Blogs.
Third, please contact us to set up a Zoom call with one of our Managing Partners. Depending on your location, we may be able to schedule a live meeting (subject to pandemic restrictions, of course).
Fourth, if you like us, we will enter into an agreement to subcontract with you to provide 1031 exchange analysis and planning services to your clients, including:
Existing property analysis (cash flow, yield on equity, IRR, tax illustration)
Due diligence on potential replacement strategies
Replacement property portfolio construction
1031 exchange transaction oversight
Finally, we help you identify your rental-owning clients who are looking to retire from being landlords.