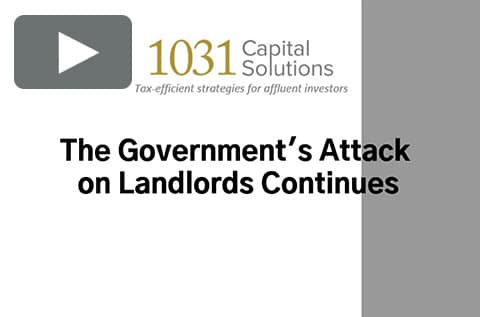 The Government's Attack on Landlords Continues
To kick off 2020, Oakland became the first California city to ban the use of criminal background checks when screening residential tenants, and other cities and counties are expected to adopt such bans in the coming months.
This comes while a similar 2018 law in Seattle is being litigated. And of course, just last year, Oregon and California became the first two states to pass statewide rent-control, not only limiting rent-growth, but making it very difficult—and expensive—to remove tenants after one year of residence.
Meanwhile, there are plenty of states in our country that value landlords and support profitable rental ownership. If you, or your client, is a residential landlord on the West Coast, it may be time to consider your options.
For more information, please give 1031 Capital Solutions a call today. Thank you.
​This information is for educational purposes only and does not constitute direct investment advice or a direct offer to buy or sell an investment, and is not to be interpreted as tax or legal advice. Please speak with your own tax and legal advisors for advice/guidance regarding your particular situation. Because investor situations and objectives vary, this information is not intended to indicate suitability for any particular investor. The views of this material are those solely of the author and do not necessarily represent the views of their affiliates.
Investing in real estate and 1031 exchange replacement properties may involve significant risks. These risks include, but are not limited to, lack of liquidity, limited transferability, conflicts of interest, loss of entire investment principal, declining market values, tenant vacancies, and real estate fluctuations based upon a number of factors, which may include changes in interest rates, laws, operating expenses, insurance costs and tenant turnover. Investors should also understand all fees associated with a particular investment and how those fees could affect the overall performance of the investment.
Securities offered through Concorde Investment Services, LLC (CIS), member FINRA/SIPC. Advisory services offered through Concorde Asset Management, LLC (CAM), an SEC registered investment adviser. Insurance products offered through Concorde Insurance Agency, Inc. (CIA). 1031 Capital Solutions is independent of CIS, CAM and CIA.