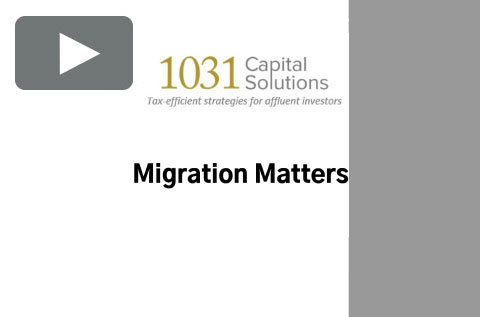 Migration Matters
Today we'll take a quick look at forecast migration patterns for 2020.
This comes from information compiled by Marcus & Millichap from Moody's and the US Census.
Note the three red dots in the lower left corner—these are the only major markets west of the Mississippi experiencing net outward migration, namely Los Angeles, Orange County and San Diego.
Conversely, the markets experiencing the highest inward migration are represented by the big green dots—including Las Vegas, Phoenix, Atlanta and six cities in Texas and Florida. Indeed, the only northern market in the top-ten list for migration is sunny Seattle.
Migration matters.
People move toward jobs, quality of life and affordability. They also bring a demand for housing, storage and services.
If you or your clients own rental property in a red dot, and have been considering your options, please, give 1031 Capital Solutions a call today. Thank you.
​This information is for educational purposes only and does not constitute direct investment advice or a direct offer to buy or sell an investment, and is not to be interpreted as tax or legal advice. Please speak with your own tax and legal advisors for advice/guidance regarding your particular situation. Because investor situations and objectives vary, this information is not intended to indicate suitability for any particular investor. The views of this material are those solely of the author and do not necessarily represent the views of their affiliates.
Investing in real estate and 1031 exchange replacement properties may involve significant risks. These risks include, but are not limited to, lack of liquidity, limited transferability, conflicts of interest, loss of entire investment principal, declining market values, tenant vacancies, and real estate fluctuations based upon a number of factors, which may include changes in interest rates, laws, operating expenses, insurance costs and tenant turnover. Investors should also understand all fees associated with a particular investment and how those fees could affect the overall performance of the investment.
Securities offered through Concorde Investment Services, LLC (CIS), member FINRA/SIPC. Advisory services offered through Concorde Asset Management, LLC (CAM), an SEC registered investment adviser. Insurance products offered through Concorde Insurance Agency, Inc. (CIA). 1031 Capital Solutions is independent of CIS, CAM and CIA.