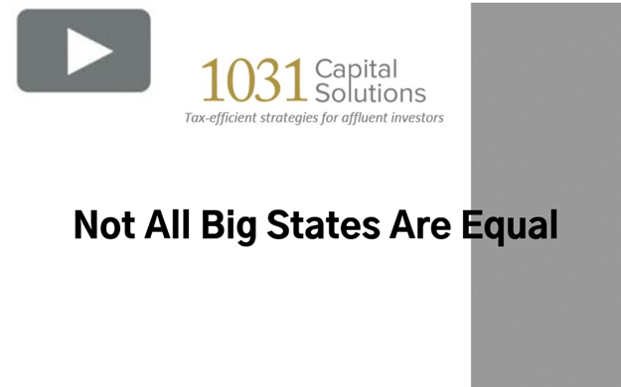 Not All Big States Are Equal
Nearly 40% of the U.S. population—and most of its real estate value—is located in the top five most populated states, namely: California, New York, Texas, Florida and Pennsylvania.
Despite their similarities in terms of population, these states provide significantly different experiences for business owners and landlords.
Both California and New York have among the highest income-tax rates in the country, are both experiencing negative migration, have widespread or statewide rent control, and have very poor ratings for ease of doing business.
Conversely, Texas and Florida have no income tax, strong population growth, and no rent control. Texas also has done a better job containing unemployment during the pandemic.
Despite having a relatively high property-tax rate, Texas is rated the #2 state for doing business by Forbes, behind North Carolina.
Of course, some of the best economic and demographic statistics today are coming out of less-populated states in the West and the South.
But if you are the kind of investor who cannot get excited about investing in smaller up-and-coming states like Idaho or Utah, then Texas or Florida may be your best bets among the largest states.
To learn more about relocating your real estate equity, please give 1031 Capital Solutions a call today.
​This information is for educational purposes only and does not constitute direct investment advice or a direct offer to buy or sell an investment, and is not to be interpreted as tax or legal advice. Please speak with your own tax and legal advisors for advice/guidance regarding your particular situation. Because investor situations and objectives vary, this information is not intended to indicate suitability for any particular investor. The views of this material are those solely of the author and do not necessarily represent the views of their affiliates.
Investing in real estate and 1031 exchange replacement properties may involve significant risks. These risks include, but are not limited to, lack of liquidity, limited transferability, conflicts of interest, loss of entire investment principal, declining market values, tenant vacancies, and real estate fluctuations based upon a number of factors, which may include changes in interest rates, laws, operating expenses, insurance costs and tenant turnover. Investors should also understand all fees associated with a particular investment and how those fees could affect the overall performance of the investment.
Securities offered through Concorde Investment Services, LLC (CIS), member FINRA/SIPC. Advisory services offered through Concorde Asset Management, LLC (CAM), an SEC registered investment adviser. Insurance products offered through Concorde Insurance Agency, Inc. (CIA). 1031 Capital Solutions is independent of CIS, CAM and CIA.