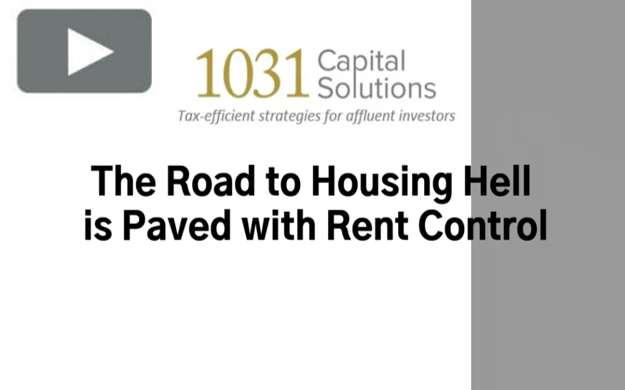 Road to Housing Hell is Paved with Rent Control
THIS BLOG IS A TRANSCRIPT OF THE ABOVE VIDEO. IT IS INTENDED TO BE WATCHED RATHER THAN READ.
Rent control is a perfect example of the bad consequences that can come from ostensibly well-intentioned policy making.
In a recent economic analysis of rent control by the highly regarded Center for Real Estate at Portland State University, three major failings of government manipulation are evident.
First, the increasing costs and burden of anti-landlord regulations is impacting the supply of multi-family development, defeating the central positive goal of misguided policy makers: providing more housing.
Similarly, these same costs and regulations are driving owners of single-family residences to sell their rental properties, often to owner-occupiers. Again, this has the net effect of reducing the inventory of rental housing.
Second, like most efforts by the government to manipulate the free market, rent control distorts normal freedom of movement and decision making. In particular, rent control primarily benefits only those people who are willing to stay put in their apartment. The flipside of that effect is the inherent disincentive to move, to seek better housing or to buy a home.
Meanwhile, rent control represents a systemic bias against renters who move frequently in pursuit of upward mobility.
Third, rent control forces landlords to defer maintenance and forego capital expenditures. Limited margins on rental housing, especially in the low-cap-rate cities where rent controls are most prominent, cannot justify capital outlays that cannot be recovered from rental increases. This inevitably leads to less desirable and neglected properties.
Declaring war on mom-and-pop landlords is not a recipe for providing more and better rental housing for families in the lower half of income brackets.
To the contrary, the recent wave of rules and regulations will serve only to decrease rental housing inventory, hinder renter mobility and cause a long, steady decline in the quality of existing units.
SOURCE:
Center for Real Estate Quarterly Report, Volume 14, Number 3 | Summer 2020
pdx.edu/realestate/research_quarterly
​This information is for educational purposes only and does not constitute direct investment advice or a direct offer to buy or sell an investment, and is not to be interpreted as tax or legal advice. Please speak with your own tax and legal advisors for advice/guidance regarding your particular situation. Because investor situations and objectives vary, this information is not intended to indicate suitability for any particular investor. The views of this material are those solely of the author and do not necessarily represent the views of their affiliates.
Investing in real estate and 1031 exchange replacement properties may involve significant risks. These risks include, but are not limited to, lack of liquidity, limited transferability, conflicts of interest, loss of entire investment principal, declining market values, tenant vacancies, and real estate fluctuations based upon a number of factors, which may include changes in interest rates, laws, operating expenses, insurance costs and tenant turnover. Investors should also understand all fees associated with a particular investment and how those fees could affect the overall performance of the investment.
Securities offered through Concorde Investment Services, LLC (CIS), member FINRA/SIPC. Advisory services offered through Concorde Asset Management, LLC (CAM), an SEC registered investment adviser. Insurance products offered through Concorde Insurance Agency, Inc. (CIA). 1031 Capital Solutions is independent of CIS, CAM and CIA.