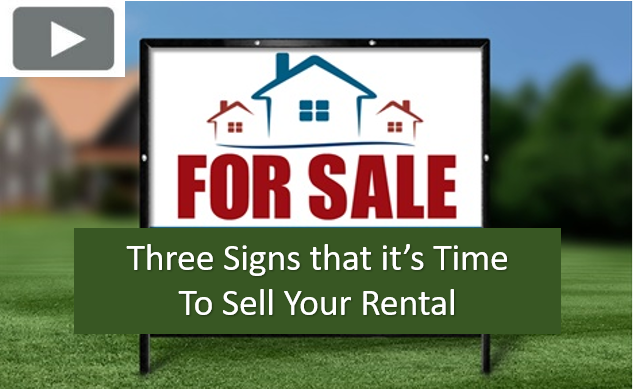 Three Signs that it's Time to Sell Your Rental
THIS BLOG IS A TRANSCRIPT OF THE ABOVE VIDEO. IT IS INTENDED TO BE WATCHED RATHER THAN READ.
If you are like many rental property owners today—especially on the West Coast—some part of you may be asking yourself the same question… is it finally time to sell my property?
To help you answer that question, try using this basic three-part litmus test.  If at least two of three categories provide a similar result, you may want to consider selling or exchanging your current rental property.
I. PERSONAL LIFESTYLE
First, on a scale of 1 to 10, rate the personal burden of being a landlord at two points in time: when you bought the property, and today.  (A "10" would be easy and wonderful, while a "1" would be difficult and horrible.)
Considerations include maintenance hassles, tenant problems, general stress and demands on your personal time. If your score has declined, this is an indication that your rental property is impacting the quality of your life.
II. LEGAL/REGULATORY IMPACT
Next, on a scale of 1 to 10, rate the legal and regulatory burden of being a landlord at the same two points in time described above. In other words, in your area, have there been substantive changes in eviction rules, screening limitations, security deposits, rent control, premises liability, mold abatement or taxes?
Put another way, has your state/local government recently declared war on landlords?  If so, you would not be faulted for seeking a less cumbersome market in which to invest.
III. FINANCIAL PERFORMANCE
Scoring the financial performance of your rental property requires examining two metrics: 1) property value and 2) rent growth.  For example, if your property value doubled in the last ten years, but your rents increased by only 25%, then your current yield on equity has declined significantly. A low yield on equity suggests you are no longer being paid adequately for the risk and hassle of owning real estate.
Could you relocate your equity to another market where yields are higher? Perhaps. But you may not want to invest elsewhere if you believe your current rental will enjoy the same appreciation in the next decade as the last. Therefore, you must also consider whether the demographic and economic forces that drove your property value in the past will continue. In some markets, it seems clear that rental owners are facing a potential plateau in values.
Selling or exchanging rental property is no easy decision. Motivations can range from purely emotional to purely financial.  If you would like help in analyzing your rental property (beyond this simple test), please visit our website at 1031capitalsolutions.com or give us a call at 1-800-445-5908.
Numerical example is for illustration purposes only. Individual results will vary.
​This information is for educational purposes only and does not constitute direct investment advice or a direct offer to buy or sell an investment, and is not to be interpreted as tax or legal advice. Please speak with your own tax and legal advisors for advice/guidance regarding your particular situation. Because investor situations and objectives vary, this information is not intended to indicate suitability for any particular investor. The views of this material are those solely of the author and do not necessarily represent the views of their affiliates.
Investing in real estate and 1031 exchange replacement properties may involve significant risks. These risks include, but are not limited to, lack of liquidity, limited transferability, conflicts of interest, loss of entire investment principal, declining market values, tenant vacancies, and real estate fluctuations based upon a number of factors, which may include changes in interest rates, laws, operating expenses, insurance costs and tenant turnover. Investors should also understand all fees associated with a particular investment and how those fees could affect the overall performance of the investment.
Securities offered through Concorde Investment Services, LLC (CIS), member FINRA/SIPC. Advisory services offered through Concorde Asset Management, LLC (CAM), an SEC registered investment adviser. Insurance products offered through Concorde Insurance Agency, Inc. (CIA). 1031 Capital Solutions is independent of CIS, CAM and CIA.