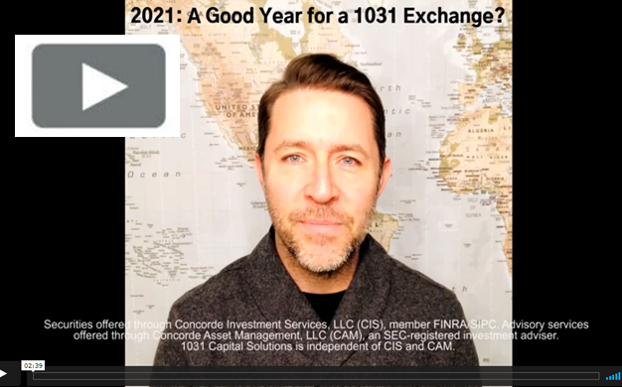 2021: A Good Year for a 1031 Exchange?
THIS BLOG IS A TRANSCRIPT OF THE ABOVE VIDEO. IT IS INTENDED TO BE WATCHED RATHER THAN READ.
Certainty, or the lack of it, drives market behavior. We see this in equities, bonds, commodities and real estate. Sometimes investors are certain for uncertain reasons, as evidenced by 2020's bullish stock performance. But there are a few things we can be certain about for 2021, particularly when it comes to real estate.
The first 2021 certainty: Big Government states like California or Illinois will face a worsening budget deficit and pension gap in 2021. Rather than reduce spending, Sacramento's reflexive response will be to raise taxes. A new proposal under AB 2088 would impose a wealth tax for 10 years on people who spend at least 60 days in California. We can expect, with certainty, that other proposals will be floated to tax business owners and landlords in 2021.
The second 2021 certainty: Bigger business and real estate operators will bounce back faster from the pandemic than smaller ones. In a survey published this week in the Wall Street Journal, larger companies have proved more resilient than smaller ones across the board.[i] This is no surprise, as smaller owners bear more risks relative to their size than large corporations. In business, strength in numbers can mean having more cash, more locations, more tenants and more resources. The same principle applies to real estate.
The third 2021 certainty: The pandemic economy has permanently affected asset classes like office, retail and hospitality. Conversely, class-A apartments, consumer-delivery distribution centers and self-storage facilities will remain strong as investors continue their flight to quality.
If you are an individual landlord facing uncertainty in your real estate investments, please give 1031 Capital Solutions a call today. Thank you.
SOURCE: [i] For Small Businesses, A Tale of Two Economies, Wall Street Journal, Dec. 19, 2020.
​This information is for educational purposes only and does not constitute direct investment advice or a direct offer to buy or sell an investment, and is not to be interpreted as tax or legal advice. Please speak with your own tax and legal advisors for advice/guidance regarding your particular situation. Because investor situations and objectives vary, this information is not intended to indicate suitability for any particular investor. The views of this material are those solely of the author and do not necessarily represent the views of their affiliates.
Investing in real estate and 1031 exchange replacement properties may involve significant risks. These risks include, but are not limited to, lack of liquidity, limited transferability, conflicts of interest, loss of entire investment principal, declining market values, tenant vacancies, and real estate fluctuations based upon a number of factors, which may include changes in interest rates, laws, operating expenses, insurance costs and tenant turnover. Investors should also understand all fees associated with a particular investment and how those fees could affect the overall performance of the investment.
Securities offered through Concorde Investment Services, LLC (CIS), member FINRA/SIPC. Advisory services offered through Concorde Asset Management, LLC (CAM), an SEC registered investment adviser. Insurance products offered through Concorde Insurance Agency, Inc. (CIA). 1031 Capital Solutions is independent of CIS, CAM and CIA.