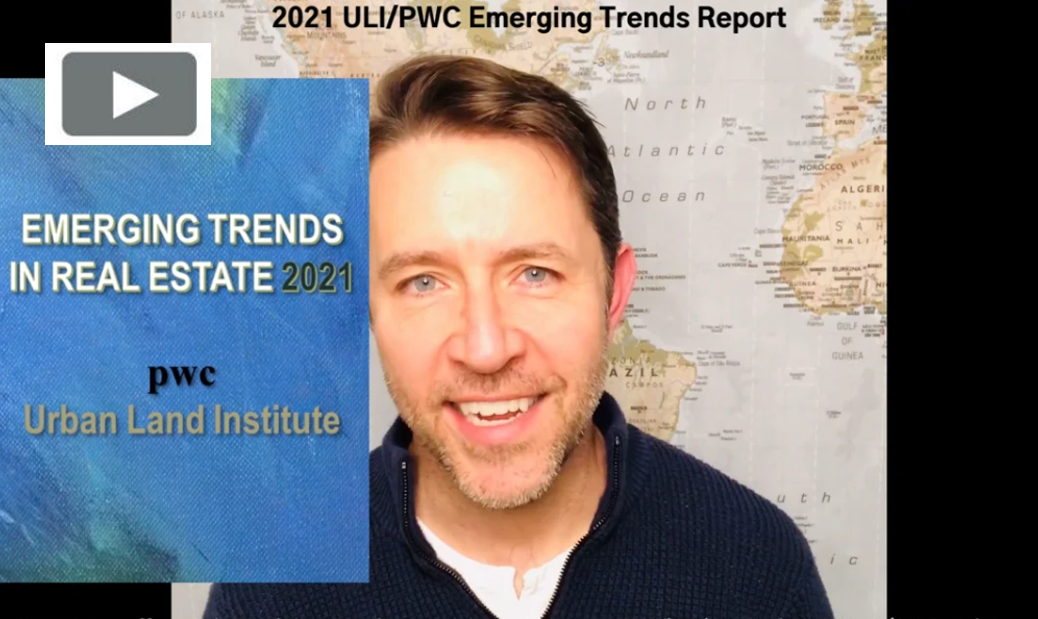 Key Take-aways: 2021 Emerging Trends Report
THIS BLOG IS A TRANSCRIPT OF THE ABOVE VIDEO. IT IS INTENDED TO BE WATCHED RATHER THAN READ.
Each year, the Urban Land Institute and PWC publish the results of their annual national survey and research effort, known as the Emerging Trends in Real Estate report. This year marks the 42nd edition.
From our perspective, the report highlighted some very interesting trends.
1. The West is Not the Best
For overall real estate prospects, not a single West Coast city appeared in the top 15 markets out of 80. In California, the Inland Empire and Orange County markets came in at 17 and 18, while Los Angeles was 28th and San Diego 31st.[i]
Northern California looks particularly bad, with San Jose and Oakland ranked in the 30s, Sacramento at 55 and San Francisco at number 60. The real estate market in the Fog City is sinking faster than the Millennium Tower, an aptly named monument for all the millennials and startups fleeing the city's apartment and office markets.
Two other West Coast markets in rapid decline are Seattle and Portland.
Since 2017, Portland has declined from #3 to #66 on the list for real estate prospects. That is an amazing drop over five years. According to Tom Potiowsky, formerly the Oregon state economist, he could not think of another example of "an area that has fallen so quickly into disfavor."[ii]
Seattle is not far behind. Also a recent favorite for real estate investors, Seattle now ranks 34th among the 80 major US markets.
Besides being in the same time zone, all of these under-performing West Coast Markets share a few common traits:
Significant increases in anti-landlord legislation
High and growing tax burdens
Severe lockdowns during the pandemic
And (as we will see in the next section) negative migration patterns
2. Migration Matters
In an article we posted several months ago, Seattle was projected to have positive migration in 2020. That turned out not to be the case. In fact, all of the 11 West Coast markets showed negative migration last year according to U-Haul data.
Conversely, Phoenix and all of the Texas and Southeast markets had positive migration last year, trends that we expect to continue.[iii]
3. The Suburbs May Not be Cool, but they are Getting Hot
Over the current decade, the experts at ULI and PWC anticipate strong suburban demand in real estate, due in part to the following demographic trends:
The population of young professionals (aged 20–29) will decline by four hundred thousand
The population in family formation years (aged 30–49) will grow by 8 million.
The empty nester population will shrink by 4 million.
The retiree population will grow by 17 million.
With the population of young professionals and empty nesters declining, we likely will see a reversal in the demand that drove urban growth during the last two decades.
If you are interested in relocating your real estate equity to markets with potentially better long-term economic and demographic prospects, please, give 1031 Capital Solutions a call today. Thank you.
Statements concerning financial market trends are based on current market conditions, which will fluctuate. Projections are inherently limited and should not be relied upon as an indicator of future results.
SOURCES:
[i] https://www.pwc.com/us/en/industries/asset-wealth-management/real-estate/emerging-trends-in-real-estate.html
[ii] https://www.wweek.com/news/2021/01/20/a-key-indicator-of-real-estate-investors-interest-in-portland-shows-a-precipitous-decline/
[iii] John Burns Real Estate Consulting analysis of pricing data pulled from uhaul.com, from Emerging Trends, above
​This information is for educational purposes only and does not constitute direct investment advice or a direct offer to buy or sell an investment, and is not to be interpreted as tax or legal advice. Please speak with your own tax and legal advisors for advice/guidance regarding your particular situation. Because investor situations and objectives vary, this information is not intended to indicate suitability for any particular investor. The views of this material are those solely of the author and do not necessarily represent the views of their affiliates.
Investing in real estate and 1031 exchange replacement properties may involve significant risks. These risks include, but are not limited to, lack of liquidity, limited transferability, conflicts of interest, loss of entire investment principal, declining market values, tenant vacancies, and real estate fluctuations based upon a number of factors, which may include changes in interest rates, laws, operating expenses, insurance costs and tenant turnover. Investors should also understand all fees associated with a particular investment and how those fees could affect the overall performance of the investment.
Securities offered through Concorde Investment Services, LLC (CIS), member FINRA/SIPC. Advisory services offered through Concorde Asset Management, LLC (CAM), an SEC registered investment adviser. Insurance products offered through Concorde Insurance Agency, Inc. (CIA). 1031 Capital Solutions is independent of CIS, CAM and CIA.