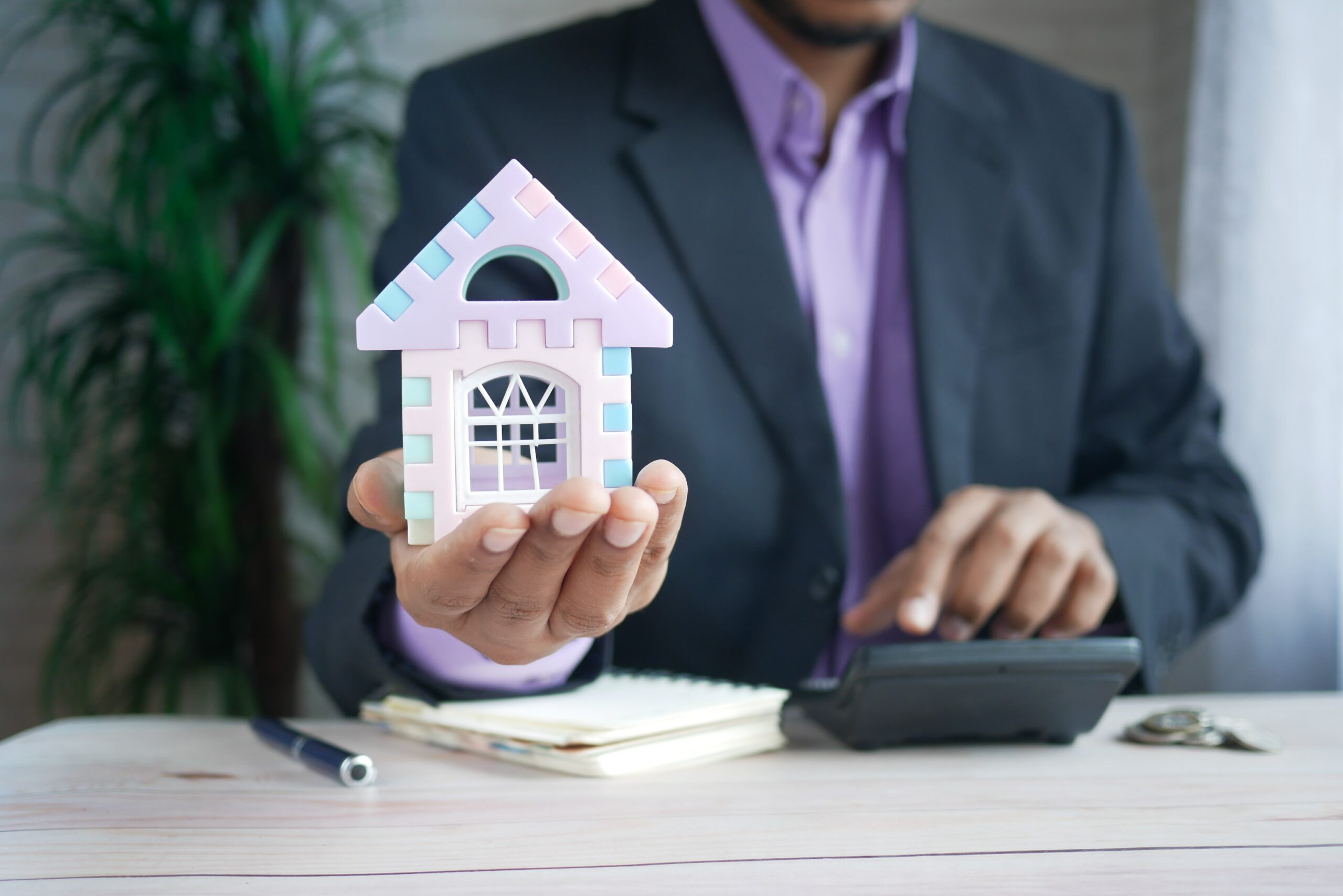 Mortgage-to-Rent Margins Remain Wide
New data released in February illustrates how difficult it is for households earning less than $100,000 to become homeowners in the current market. The National Association of Realtors found there are more than 400,000 fewer affordable homes available for sale for households that earn $75,000 to $100,000, compared to the start of the pandemic.[1]
Unfortunately for current renters, March didn't bring better news on the affordability front. The average rate for a 30-year mortgage pushed past 4.0 percent for the first time since 2019, then accelerated at an even faster pace following the Fed's first interest rate hike in over four years.[2]
According to a research report by Marcus & Millichap, the persistent supply/demand imbalance is maintaining upward pressure on values, with the median sale price reaching $382,200 in February—up 15.4 percent year-over-year.2 Accounting for inflation, those year-over-year gains are greater than the gains seen in the decades between 1980-1990 and 1990-2000![3]
These conditions reinforce the multifamily segment's demand surge. Typically, apartment communities are considered "functionally full" when they are 96 percent occupied (which accounts for the ebbs and flows of occupancy that occur when units are turning between residents).[4] The Marcus & Millichap report shows national rental vacancy is estimated at just 2.4 percent for March 2022, almost 200 basis points below the 2019 register. Metros across the Sun Belt are recording the steepest rent climbs relative to home price growth. The six largest Florida markets, along with Charlotte and Atlanta, each had 2021 average effective rent jumps that were 1.5 times faster than their respective median home price rises.2
Nationwide rent prices have increased an average of 9 percent per year since 1980, consistently outpacing wage inflation by a significant margin.[5] Preliminary estimates for the first quarter of 2022 show a 16.8 percent rise in average effective apartment rents in the United States, slightly faster than the annual price gain for homes, and nearly double the historical average.
While apartment rent gains are catching up to home prices, the gap between mortgage and rent payments remains wide, despite the recent swell in effective rents. Simply put, all Americans need somewhere to live, and with limited inventory and 80 percent of U.S. markets experiencing home prices rising faster than wages[6] there are more people renting for longer periods of time.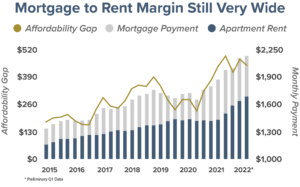 Incidentally, some of the most expensive parts of the country are actually more affordable now than they were pre-pandemic. Since 2019, household incomes rose 15 percent and 13 percent, respectively, in San Jose and San Francisco. While a greater number of households in those areas could afford a slightly more expensive home, there are fewer options available because of record-low inventory.1
These housing dynamics may be entrenched.  While permit activity in both the single-family and multifamily markets signal a rise in future completions, experts say there is a single-family supply shortage of roughly 3.8 million homes, and nearly double that for multifamily units.[7] In fact, the U.S. needs 325,000 new apartment units are needed each year to just keep pace with demand, but that number has only been achieved 3 times in last 30 years.[8]
The affordability challenges are likely to continue well into the future. Today a greater share of the nation's aggregate income is going to upper-income households, while the share going to middle- and lower-income households is falling. According to findings from Pew Research, "the share of American adults who live in middle-income households has decreased from 61% in 1971 to 51% in 2019."[9]  Additionally, of the 68 million Americans who are in the prime renting age of 20-34, nearly 63 percent have saved $0 for a down payment![10]
For folks interested in participating in the growing demand for apartments but are ready to retire from being a landlord, there are passive real estate investments that may allow investors an ability to move from an active to a passive role of real estate ownership on a tax-deferred basis.
For more information about passive real estate investments, please call 1031 Capital Solutions at 1-800-445-5908 or visit our website, 1031capitalsolutions.com.
_____________________
Because investors situations and objectives vary this information is not intended to indicate suitability for any particular investor.
This is for informational purposes only, does not constitute as investment advice, and is not legal or tax advice. Please consult the appropriate professional regarding your individual circumstance.
IRC Section 1031, IRC Section 1033 and IRC Section 721 are complex tax concepts; therefore, you should consult your legal or tax professional regarding the specifics of your particular situation.
There are material risks associated with investing in real estate securities including liquidity, tenant vacancies, general market conditions and competition, lack of operating history, interest rate risks, the risk of new supply coming to market and softening rental rates, general risks of owning/operating commercial and multifamily properties, short term leases associated with multi-family properties, financing risks, potential adverse tax consequences, general economic risks, development risks, long hold periods, and potential loss of the entire investment principal.
The data contained in this material was obtained from third-party sources believed to be reliable; however 1031 Capital Solutions, CIS, and CAM do not guarantee the accuracy of the information.
Securities offered through Concorde Investment Services, LLC (CIS), member FINRA/SIPC. Advisory services offered through Concorde Asset Management, LLC (CAM), an SEC-registered investment adviser. 1031 Capital Solutions is independent of CIS and CAM.
[1] BizJournals.com, Gap Continues to Widen for Housing Affordability Inventory, Feb. 9, 2022
[2] Marcus & Millichap, Affordability Spread Remains Large, Despite Multifamily Rent Escalation, March 31, 2022
[3] Better.com, Here's how much home prices have risen since 1950, October 18, 2021
[4] Realync.com, Apartment Occupancy Calculator, as of April 5, 2022
[5] iPropertyManagement.com, Average Rent by Year, October 26, 2021
[6] HousingWire, Home Prices are Rising Faster than Wages in 80% of U.S. Markets, January 10, 2021
[7] KIMC.com, How Undersupply of Affordable and Single-family Housing is Boosting the Rental Market, February 17, 2022
[8] US Census Bureau, New Residential Construction and National Apartment Association, U.S. Needs 4.6M New Apartments by 2030 to Keep Pace with Demand, June 27, 2018
[9] PewResearch.org, 6 Facts about Economic Inequality in the US, February 7, 2020
[10] RE Journals, Forever Renters? Nearly 20 Percent of Millennials not Interested in Owning a Home, February 18, 2021
_____________________
Securities offered through Concorde Investment Services, LLC (CIS), member FINRA/SIPC. Advisory services offered through Concorde Asset Management, LLC (CAM), an SEC registered investment adviser. Insurance products offered through Concorde Insurance Agency, Inc. (CIA) 1031 Capital Solutions is independent of CIS, CAM and CIA.