The Robots are Coming! (to take your tenants' jobs)
Yes, the robots are coming. 
Not to wage war or enslave us in the Matrix, but to replace your tenants at their workplace. 
According to willrobotstakemyjob.com, the 20 occupations with the highest automation risk are: [i] 
20. Packaging and filling machine operators 
19. Legal secretaries 
18. Loan officers 
17. Inspectors/testers/sorters/samplers/weighers 
16. Insurance appraisers/processing clerks/claims adjusters 
15. Bookkeeping/accounting/auditing/brokerage/new accounts clerks 
14. Etchers and engravers 
13. Credit analysts 
12. Sales workers 
11. Photographic/processing machine operators 
10. Hand sewers 
9. Tax preparers 
8.Telemarketers 
7. Title examiners/abstractors/searchers 
6. Watch repairers 
5. Insurance underwriters
4. Library technicians 
3. Mathematical technicians 
2. Cargo and freight agents 
1. Data entry keyers 
Do any of your tenants have one of these jobs? If so, they may find it necessary to move back into mom's basement in the near future.  Furthermore, this list does not include all of the many sub-categories of manufacturing jobs which, if added together, represent the occupations most vulnerable to robotic replacement.  For your residents who report to a factory each morning, automation may simply be a matter of time. 
As it turns out, where you own rental property has a significant impact on your tenants' risk of replacement by robots.  According to data from Oxford Economics (as reported in Business Insider), Oregon is the state most likely to lose manufacturing jobs to automation. [ii]
ROBOT VULNERABILITY INDEX 

Over 0.40      0.35—0.40       0.30—0.35        Under 0.30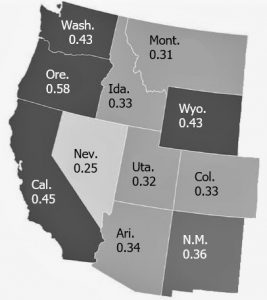 Among the Western States, the most vulnerable states include not only Oregon but Washington and California, as well as Wyoming. Conversely, Nevada is the safest state in the west from automation, and the third-best state overall (evidently craps tables and slot machines still require a human touch).  Arizona, Utah and Colorado also have stronger immunity to the android pathogen. 
Here is yet another compelling reason to consider exchanging rental properties away from the West Coast.  Fires, floods, riots, taxes, regulations… and now robots! 
To learn more about relocating your real estate equity, please give 1031 Capital Solutions a call today. Thank you. 
[i] https://willrobotstakemyjob.com/highest-risk-jobs
[ii] https://www.businessinsider.com/map-shows-the-states-could-lose-most-jobs-to-robots-2019-7
​This information is for educational purposes only and does not constitute direct investment advice or a direct offer to buy or sell an investment, and is not to be interpreted as tax or legal advice. Please speak with your own tax and legal advisors for advice/guidance regarding your particular situation. Because investor situations and objectives vary, this information is not intended to indicate suitability for any particular investor. The views of this material are those solely of the author and do not necessarily represent the views of their affiliates.
Investing in real estate and 1031 exchange replacement properties may involve significant risks. These risks include, but are not limited to, lack of liquidity, limited transferability, conflicts of interest, loss of entire investment principal, declining market values, tenant vacancies, and real estate fluctuations based upon a number of factors, which may include changes in interest rates, laws, operating expenses, insurance costs and tenant turnover. Investors should also understand all fees associated with a particular investment and how those fees could affect the overall performance of the investment.
Securities offered through Concorde Investment Services, LLC (CIS), member FINRA/SIPC. Advisory services offered through Concorde Asset Management, LLC (CAM), an SEC registered investment adviser. Insurance products offered through Concorde Insurance Agency, Inc. (CIA). 1031 Capital Solutions is independent of CIS, CAM and CIA.